The Bibliophiles: Contemporary Fiction with a Sprinkling of the Classics


---
BREAKING NEWS

March 14, 2015

I just received word that A Groovy Kind of Love was nominated for a 2015 Readers' Choice Award for Women's Fiction at the widely popular BigAl's Books and Pals review blog. To vote for A Groovy Kind of Love, click here. You could win books or even a $75 Amazon gift card. Thanks so much for your support! — Karen
---
Books. Hippies. England. What's not to Love?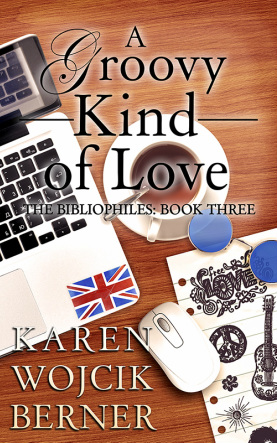 A Groovy Kind of Love Now Available at
Amazon
,
Barnes &
Noble
,
iTunes
,
Kobo
, and
Smashwords
"This book is 'The Odd Couple' meets 'Beauty and the Beast' with a touch of Nicholas Sparks tragedy thrown in for good measure." — The Republican Herald
"...exquisite!" — The Book Dilettante
"OMG...This whole series was great, but this book...just wow. The back story, the drama, all the little twists and turns!" — You Had Me at Free Book"This is about true love. Not teen love. Not young love or puppy love. But love that is in your soul. So few books bring me to tears because of how true and honest the experience and emotions are portrayed....A must read. And I don't say it often, but a re-read." — Clutter Your Kindle
---
Uptight British lit lover meets a free spirit at a book club, and his world is turned upside down!

After placating to his father's demands that he play Little League baseball and major in computer programming in college rather than his beloved English literature, Thaddeus assumed that several years into his career, he would finally get some peace and quiet.

Then he met Spring Pearson, the younger, free-spirited daughter of Hippie parents, at a book club meeting. Instantly smitten, Thaddeus finally worked up the courage to ask Spring out. But will an old college pinkie-swear promise Spring made fifteen years ago get in the way of this bibliophilic romance?

A Groovy Kind of Love is the third and final installment of Karen Wojcik Berner's Bibliophiles series. Written as stand-alone novels, each book focuses on one or two members of a fictional suburban classics book club, revealing their personal stories while the group explores tales spun by the masters.